The
brightest minds

of the global

swine industry

– in your pocket.
Get access to The Swine it Podcast Show!
And receive the FREE e-book "Tools of the Global Swine Industry Titans" – selected and compiled by Dr. Marcio Gonçalves.
Do you want to be in the top 1% of the swine industry?
Then learn how to improve pig production with high-impact strategies and through a modern podcast especially conceived and designed by and for the brightest minds of the global swine industry. Perfect for staying up to date with the latest research, trends and hot topics of the industry in a light and interesting way, while saving your time.

Interested?
Then get started NOW
Dr. Trey Kellner
Dr. Trey Kellner is the Swine Nutritionist and Managing Partner for AMVC Nutritional Services. He currently oversees the feeding program for over 175,000 sows and 2,000,000 market pigs per year in 12 states across 40 plus feed mills. Dr. Kellner grew up in rural Western Kansas and found an early interest in swine nutrition by managing a modest show pig operation and observing his dad manage a cooperative feed mill. He attended Colby Community College and the University of Nebraska and obtained his M.S. and Ph.D. in Animal Science under the tutelage of Dr. John Patience at Iowa State University. Trey adds value from the board room to the slat level. He develops and executes successful feeding programs and predicts economic and performance outcomes. He works in tandem with primary caretakers, production managers, veterinarians, central feed desk employees, and feed mill managers to ensure the correct feed gets to the correct pig at the correct time. Most recently, Trey was honored with the 2020 Young Alumni of Distinction Award by the Animal Science Department at the University of Nebraska – Lincoln, the 2022 Midwest Section of the American Society of Animal Science Outstanding Early Career Agribusiness Award, and the 2023 Alpha Gamma Rho Grand President's Award. Trey currently resides in Audubon, Iowa
with his wife Heather and four-year-old son Theo and one-year-old daughter Dylan.
MSc. Jerry Purvis
Jerry received his Master of Science in Nutrition from North Carolina State University and serves as Director of Feed Operations for NG Purvis Farms, an NC pig production company. He manages formulation, feed manufacturing, and the farm-level execution of feed programs. Over the last 20 years, his focus has been on feed manufacturing protocols that support and improve sow and pig performance while increasing overall profitability. His expertise in purchasing, husbandry, feed mill science, and formulation affords him the ability to make nutritional decisions that give the best net return over feed costs. Jerry enjoys spending his free time at the beach with his wife and four children.
Dr. Mike Tokach
Distinguished Professor, Kansas State University
''Knowledge is power! Dr. Marcio Gonçalves is one of the bright young minds in the swine industry. His ability to distill complex problems and opportunities into information for the pork industry makes his podcasts a valuable resource.''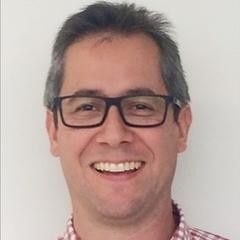 Dr. Cesar Corzo
Associate Professor, University of Minnessota
''Dissemination of scientific information contributes to improving decision-making processes, especially when interventions are required. Ultimately, this should result in performance improvement.''
Dr. Chris Hostetler
Director of Animal Science, National Pork Board
''I am excited about this venture you have launched, and the participation attests to the need of producers for this information."
Dr. Joe Hahn
Director of Nutrition
Smithfield Hog Production
"The podcasts are a great way to quickly get up-to-date information on the emerging areas of focus, as well as exposure to the influencers of the swine industry. Listening to them is now a required part of my routine. The broad range of topics is very useful in helping me expand my thinking beyond my primary area of focus. Thanks for providing this useful resource."
Dr. Marcio Goncalves
Dr. Marcio Goncalves earned his veterinary degree from UFRGS, a top university in Brazil, and his PhD in applied swine nutrition from Kansas State University and worked as Global Nutritionist for one of the major swine genetic companies where he led nutrient requirement updates, diet formulation & feeding program for nucleus farms, development of nutritional economic models, and reviewing diets from over 100 customers. Currently, he is the founder of Wisenetix, the largest network of podcasts in the agriculture industry.
He has over 15 years of experience in swine production with exposure to over 20 countries and 120 research studies in pig nutrition/production and his life purpose is to create a positive impact in the world through knowledge dissemination in the global ag industry.
Additionally, he is a member of the Non-Ruminant Nutrition Symposium Committee at the American Society of Animal Science. More information can be found at Google Scholar, Research Gate, and LinkedIn.