The latest
swine health research

digested into

9 minutes

– every week.
Get Access to The Swine Health Blackbelt Podcast!
And receive the FREE E-book "5 Principles in Swine Health" – selected and compiled by Dr. Clayton Johnson.
Learn swine health from the brightest minds of the global swine industry – in 9 minutes.
If you are a swine veterinarian who wants to stay up to date with all that is working in the industry, but doesn't know how to start, doesn't have the time, or feel most courses out there don't deliver, then you have come to the right place.
The Swine Health Blackbelt Podcast is specially designed by and for professionals just like yourself. With it, you can effortlessly have access to the thoughts of the most brilliant minds in our industry – all while going about your routine and saving your time.

Interested?
Then get started NOW
Dr. Clayton Johnson
Dr. Clayton Johnson attended the College of Veterinary Medicine of the University of Illinois, where he received his Ph.D. in Veterinary Medicine and completed the Executive Veterinary Program. He is currently a partner and veterinarian at Carthage Veterinary Service Ltd., and his expertise in the training and development of veterinarians makes him a sought-after consultant throughout the world.
In 2020, Dr. Johnson was awarded the distinguished Allen D. Leman Science in Practice Award – the global swine industry's premier award for swine veterinarians, annually given to those with exceptional ability to utilize science in their everyday practice of health management.
More information can be found at Linkedin.
Dr. Mike Tokach
Distinguished Professor, Kansas State University
''Knowledge is power! Dr. Marcio Gonçalves is one of the bright young minds in the swine industry. His ability to distill complex problems and opportunities into information for the pork industry makes his podcasts a valuable resource.''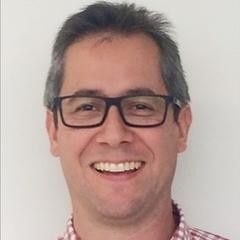 Dr. Cesar Corzo
Associate Professor, University of Minnessota
''Dissemination of scientific information contributes to improving decision-making processes, especially when interventions are required. Ultimately, this should result in performance improvement.''
Dr. Chris Hostetler
Director of Animal Science, National Pork Board
''I am excited about this venture you have launched, and the participation attests to the need of producers for this information."
Dr. Joe Hahn
Director of Nutrition
Smithfield Hog Production
"The podcasts are a great way to quickly get up-to-date information on the emerging areas of focus, as well as exposure to the influencers of the swine industry. Listening to them is now a required part of my routine. The broad range of topics is very useful in helping me expand my thinking beyond my primary area of focus. Thanks for providing this useful resource."
Dr. Marcio Goncalves
Dr. Marcio Goncalves earned his veterinary degree from UFRGS, a top university in Brazil, and his PhD in applied swine nutrition from Kansas State University and worked as Global Nutritionist for one of the major swine genetic companies where he led nutrient requirement updates, diet formulation & feeding program for nucleus farms, development of nutritional economic models, and reviewing diets from over 100 customers. Currently, he is the founder of Wisenetix, the largest network of podcasts in the agriculture industry.
He has over 15 years of experience in swine production with exposure to over 20 countries and 120 research studies in pig nutrition/production and his life purpose is to create a positive impact in the world through knowledge dissemination in the global ag industry.
Additionally, he is a member of the Non-Ruminant Nutrition Symposium Committee at the American Society of Animal Science. More information can be found at Google Scholar, Research Gate, and LinkedIn.